Preparation checklist
Before you start purchasing devices for your smart home, it is important to ensure you have a solid understanding of smart home technology, both in terms of the overall infrastructure and intercommunication of devices, as well as the devices themselves. Here are some things you should always think about before taking the plunge on a smart home control solution.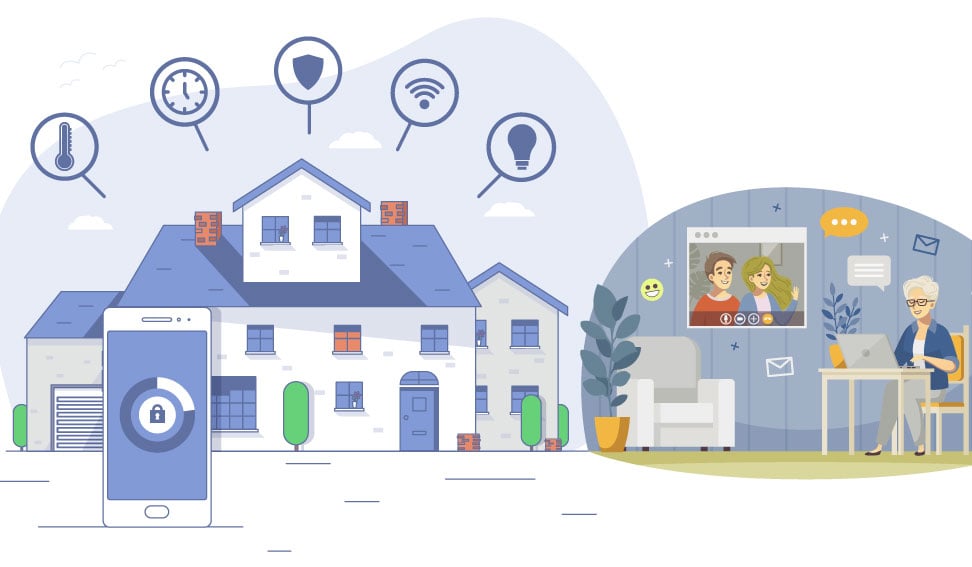 Network
Smart devices almost always rely on a good wireless Internet connection. Ensuring that your home has good network coverage is the first step in building a foundation for your new smart home. Devices such as Google's Nest Wifi can create mesh networks around your home, ensuring that your devices always have coverage and a reliable connection.
Choosing your ecosystem
When choosing between a Windows or Mac computer, it inevitably comes down to your specific use case and goals. Choosing a smart home ecosystem is no different. Generally, at the heart of all smart homes is voice control. Although many devices are compatible with one another, some devices are limited in terms of the devices they can seamlessly integrate and interact with. If you are already heavily invested in Apple's tech ecosystem, the most frictionless course of action is likely to continue using Siri. However, Google Assistant and Amazon's Alexa offer a wide variety of assistant-enabled devices and work with a number of third-party devices that can be used to perform various functions such as controlling your TV, lights, and more.
Budget and technical savvy
Once you start outfitting your environment with smart home products, costs compound quickly. It is important to have a budget ready to make sure that you meet all of your goals without breaking the bank. Remember, devices can always be added later, so start with the core functionality that you hope to achieve with smart home tech.
Additionally, devices inevitably fail and may need to be replaced. It is always a good idea to factor in your patience and understanding when it comes to troubleshooting a technical hiccup. It can be very frustrating when you try to turn your one song by voice and it doesn't work, but it can be even more frustrating when you are not even sure what the first step to take to troubleshooting is.
Choosing your devices
Choosing your devices can be a very daunting task when working with smart home technology. There are many options to choose from, and getting things to connect and stay connected with one another can be a frustrating challenge. Here is a list of some common smart home solutions.
TV control
Logitech Harmony Hub: Essentially a smart universal remote control, the Harmony Hub can be used to control many of your media devices, including TV, cable box, stereos, and more
Amazon Fire Cube: Transform virtually any TV into a voice-controlled, smart TV. Using your Amazon Echo or another Alexa-enabled device, play movies and TV shows using Netflix and other streaming platforms with voice commands
Google TV: Google's equivalent streaming device to the Amazon Fire Cube
Apple TV: For Apple users, the Apple TV is fully integrated with Siri and Apple's HomeKit
Smart lighting
TP-Link Kasa Smart Switches: Replace your existing light switches with smart light switches, allowing you to use voice commands on Google Assistant and Alexa to turn on and off your lights. Smart dimmers are also available
Belkin Wemo Smart Switches: Just like the above TP-Link option, you can control your lights by voice. Wemo smart switches are also compatible with Apple's HomeKit
Lutron Caseta: This smart dimmer switch comes with a powered hub, eliminating the need for a neutral wire. This is a good option where a neutral wire is not available, and running new wires is not an option
TP-Link Kasa Smart Wi-Fi Plug: Turn on and off lamps, and small appliances such as fans by plugging them into a smart Wi-Fi plug
Belkin Wemo WiFi Smart: Wemo's smart plug, also compatible with Apple's HomeKit
Phillips Hue: As simple as changing a lightbulb, Phillips Hue's smart bulbs can be turned on and off and dimmed using Google, Alexa, and Siri
Notable mentions
As the smart home landscape is evolving, so are the number of available devices that can be used in novel ways to expand smart home control options. Here are some new and noteworthy contenders.
Smart Thermostats
Smart thermostats enable you to control your HVAC system using an app or voice commands.
Examples: Nest Thermostat, Ecobee (low-voltage) and MYSA (high-voltage)
Smart locks and doorbells
Smart locks can enable you to lock and unlock your door from anywhere in the world using voice commands. Smart doorbells can allow you to see who is at your door
Examples: August Smart Lock, Ring Doorbell, Google Nest Hello
Smart blinds/curtains
You can also control many types of curtains and blinds, allowing you to control sunlight in your home on a schedule or using voice commands
Example: Soma Smart Shades/Soma Tilt, Switchbot Curtain
Overwhelmed?
We know this is a lot of information to digest, and this is just a shortlist of what is available out there in the smart home tech world. Not sure which device is right for you, or how to prioritize within your budget? Not sure what a neutral wire is or how to find out if you have one? Don't be discouraged!
At Novalte, we live and breathe smart home tech, but we also know how hard it can be to understand and set up all of these devices to work together. If you're looking for a fully managed smart home solution, contact us today for a demo and see how we can help give you all the independence and freedom of a smart home without any of the headaches.